3 v. 3 Tournament Fundraiser for Local Refugees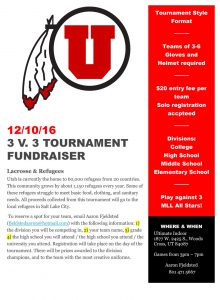 Attackmen Aaron Fjeldsted and Josh Stout along with midfielder Jake Stout have organized a 3 v. 3 tournament to raise funds for local refugees.
Utah is currently the home to 60,000 refugees from 20 countries. This community grows by about 1,150 refugees every year. Some of these refugees struggle to meet basic food, clothing, and sanitary needs. All proceeds collected from this tournament will go to the local refugees in Salt Lake City.
Tim Haslam: What led you to put this together? What was the genesis of the idea?
Aaron Fjeldsted: The idea came from playing fiddle sticks with the Stouts in the back yard, and we figured a lot of people would jump onto the idea of a "fiddle stick" style tournament. The inspiration to turn this idea into action came from the coaching staff. They are always encouraging us to focus on others.
TH: Which groups will benefit from the proceeds?
AF: The money will go to Refugee Scout Troops. I have been talking with Michael Nebeker, and he is the chairman of the Utah Refugee Scout Program. He is very excited for us to help out!
TH: Can people donate without playing?
AF: Yes! We will be accepting donations for those that aren't playing. Electronic payments can be done through Venmo to Aaron Fjeldsted, as well as checks to Great Salt Lake Council BSA will be accepted.
To reserve a spot for your team, email Aaron Fjeldsted (fjeldstedaaron@hotmail.com) with the following information:
1) The division you will be competing in
2) Your team name
3) Grade
4) The high school you will attend / the high school you attend / the university you attend.
Registration closes on December 8. There will be prizes awarded to the division champions, and to the team with the most creative uniforms.
Rules:
Tournament Style Format
Teams of 3-6
Gloves and Helmet required
$20 entry fee per team
Solo registration accepted
Divisions:
College
High School
Middle School
Elementary School
Play against 3 MLL All-Stars!
Where & When
Ultimate Indoor
1877 W. 2425 S., Woods Cross, UT 84087
Games from 3PM – 7PM