Winter Prospect Day – January 14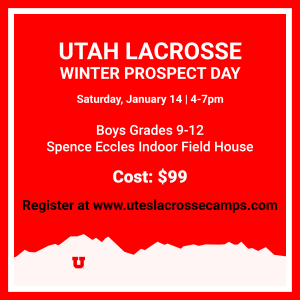 Join University of Utah Men's Lacrosse Head Coach, Brian Holman, Assistant Will Manny and Utes players for lax instruction and games! Short Q & A session about college lacrosse and the recruiting process.
Registration Closes January 11th.
For: Boys Grades 9-12 for the 2016-17 School Year

When: Saturday, January 14th
Time: 4-7pm
Location: University of Utah – Spence Eccles Indoor Field House  
650 S. Guardsman Way, Salt Lake City, UT 84108

Cost: $99
Capacity: A=15, M=21, D=15, LP=8, FO=8, G=8 – *Maximum 75 Campers

Additional Information:  All players bring equipment, mouthguard, water bottle, snack.
Map