Elson, Swinney Lead Utes to 10-6 Win Over Stanford
Midfielder Ian Elson had 4 goals while goalie Quinton Swinney had 12 saves to lead the Utes (4-2) to a 10-6 win over Stanford on Wednesday in Palo Alto, California.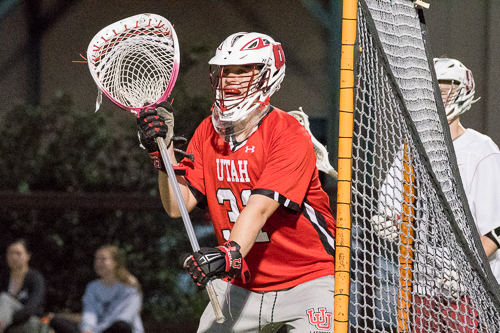 The Utes started slow, allowing a Stanford goal early in the game, but the Utes leveled the score on a goal by attackman Aaron Fjeldsted at the 4:52 mark. Stanford would score two more goals and take a 3-1 lead into the second quarter. The Utes needed to swing the momentum and Elson answered the call at the 13:54 mark. Midfielder Jake Stout added to the run then Elson scored again to give Utah its first lead of the game. Stanford wasn't going to leave the home fans disappointed, so they battled back and went on a two goal run to take a 5-4 score into halftime.
The halftime speech by the Utah coaching staff struck a chord, leading to a 4-0 third quarter in favor of Utah. Attackman Josh Stout started the run with Fjeldsted and midfielder Gus Colonna getting goals. Stout would also finish the run at the 2:30 mark. The Utah defense stood tall with Swinney leading the charge. Defenders Kendall Jackson and Cayden Beyer held down the wings while several teammates took care of the middle of the field.
The fourth quarter was a back and forth affair with both teams looking for a key goal. Stanford notched the first goal of the quarter to bring the score to 8-6 for Utah. The next goal for either team would be crucial and it came for Utah at the 5:31 mark when Elson drove down the middle of the field and used his size to open his angle on the goal, then shot and scored. Elson would put the nail in the coffin at the 1:16 mark on an open goal as the Cardinal was pressuring.
Five Utes tallied points on the night: Elson (4G), Josh Stout (2G), Fjeldsted (2G), Jake Stout (1G, 1A) and Colonna (1G). FOS Noah Hill went 8 for 15 from the face-off X. The Utes will head home to finish a 4 games in seven day stretch on Friday with a battle against Simon Fraser. The game will begin at 6:00pm MT.
Quotes
Head Coach Brian Holman on what he liked about the game:
"The fact that we won. We got behind and we weren't playing well and the players decided that they needed to buckle down and win the game. They decided that and they really stepped up."
Head Coach Brian Holman on how it feels to get back in the win column:
"It feels great. Nobody likes to lose. Our program is trying to establish a culture of winning on and off the field. We've done well off the field. We got better on the field tonight and that's what it's all about: putting your best for forward and winning games."
Head Coach Brian Holman on how the team is overall:
"We're close to what our record says. If we would have lost tonight we would have been 3-3 and that's average. We're a step above average. What I tried to tell these guys afterwards is that to continue to grow we must do the little things. Not only in practice but in the games too. If we do that, then Friday we'll be two steps above average, if not we'll be average. We're making progress and it's a long season. We're playing for the long haul."
Goalie Quinton Swinney on getting a win over a quality opponent:
"It felt great to bounce back and get a big win tonight. It was a great team game."