Strong Second Half Propels Utes Past Aggies
The University of Utah Men's Lacrosse team used a strong second half performance to beat Utah State on Wednesday, 16-9, in Logan.
Utah jumped out to a 3-1 lead after the first quarter on back-to-back goals by attackman Josh Stout and a transition tally by midfielder Deen Anderson that was started with a great save by goalie Quinton Swinney. Utah State opened the second quarter scoring to cut the Utes lead to one. Stout earned a hat-trick at the 13:33 mark of the second quarter after scooping up a loose ball at the top of the box and stepping down into the shot which found the right side of the back of the net. Not to be outdone but his younger brother, midfielder Jake Stout scored on a signature alley dodge rip to give the Utes a 5-2 lead. Both teams swapped goals before Utah State capitalized on a man-up opportunity and a late goal in the half, giving the Utes a 6-5 halftime lead.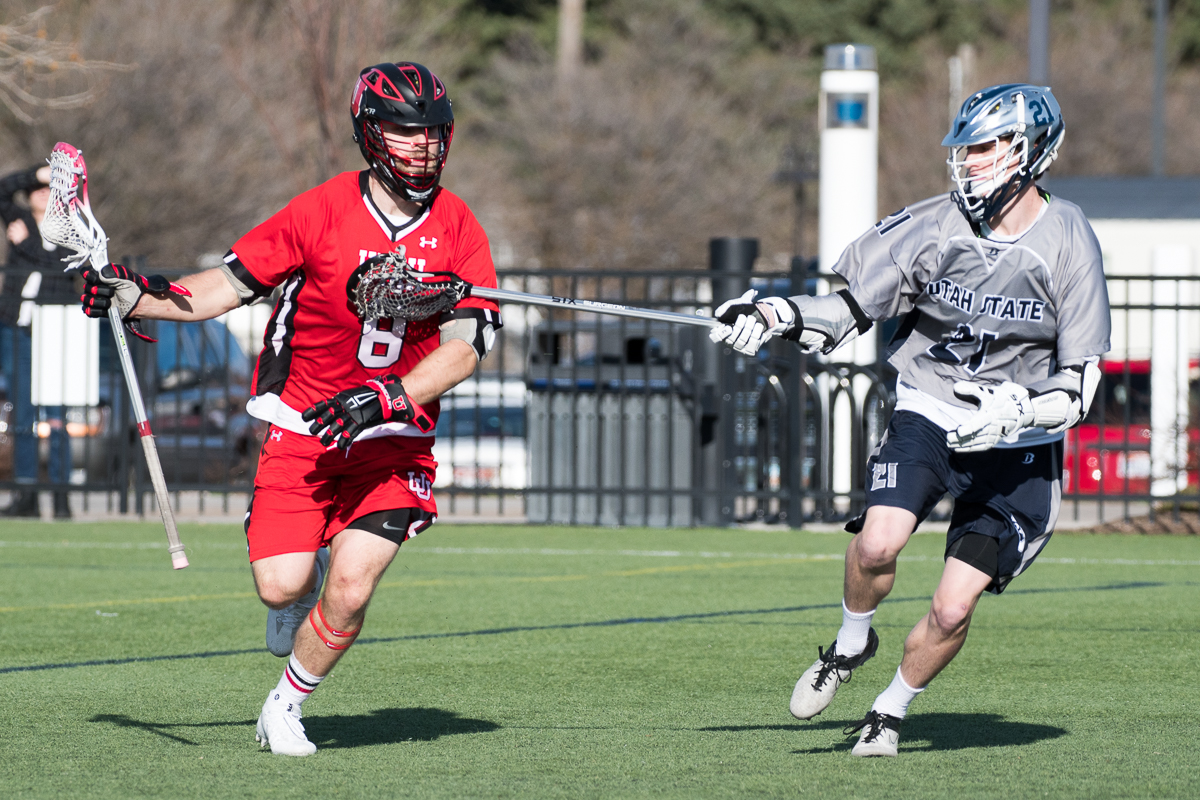 The Aggies came out of the break with all the momentum and used it to even the score at 6 at the 12:48 mark in the third quarter. Attackman Aaron Fjeldsted scored his first goal of the game to give the Utes the lead but it was answered quickly by the Aggies. The Utes buckled down on defense and were patient on offense, leading to a three goal run. Midfielder Cam Redmond caught the defense ball watching on a man-up opportunity and found Jake Stout wide open on the crease for an easy goal. Midfielder Ian Elson found Fjeldsted wide open in the middle of the field which led to a quick turn and score for the second goal of the run. With 10 seconds remaining in the quarter, midfielder Gus Colonna caught a pass on the wing and easily converted the time and space shot.
Utah had another three goal run to open the fourth quarter with Jake Stout, Elson and Redmond finding the back of the net. Utah State scored midway through the quarter to make the score 13-8 for Utah. Attackman Alek Kirschner scored his second of the game with 4 minutes remaining which was followed by another goal by Fjeldsted to give Utah a 15-8 lead late in the game. Both teams netted one more goal, giving Utah a 16-9 victory.
The Stout brothers each had 4 goals and 1 assist. Swinney finished with 15 saves.
The Utes (7-2) will be in action on Saturday, April 1 as they take on the Boise State Broncos at 2pm at Ute Soccer Field.
Quotes
Head Coach Brian Holman on starting slow and having a strong second half:
"It's lacrosse. Sometimes it's just the way it happens. I told them at halftime that one, that was only a half of the game and our goal is always to play four quarters from start to finish. The other thing is to give credit to your opponent. Utah State played really well. So a combination of them playing well and us pressing a little bit but once we relaxed and played our game then everything took its course. It took four quarters and that's why we play four quarters."
Head Coach Brian Holman on what/who he was proud of from the game:
"Cam Redmond does so much all over the field. He plays offense, he plays defense, he plays on the wings on face-off. I thought Josh and Aaron were really stalwarts. Our ride was incredible. Really though it was a total team effort and that's what I'm most proud of and that's what is going to get us places moving forward."