Utah Rolls Simon Fraser, 21-9
The University of Utah Men's Lacrosse team dismantled the Simon Fraser Clansmen on Friday, taking home a 12-9 victory at Ute Soccer Field. Freshman attackman Josh Stout led the charge with 7 goals and 1 assist.
The game was close early on with both teams scoring on their first possessions. Utah started the game with a face-off win by Noah Hill who found Stout who buried it in the back of the net. Both teams would trade goals 2 minutes later to make the score 2-2. Simon Fraser claimed its first lead of the game at the 9:53 mark when Jordan Gabriele found space and scored. Stout would score 30 seconds later to tie the game at 3. Utah would regain the lead on a top shelf rip by midfielder CJ Andersen but the Clansmen battled back when Tyler Kirkby was able to find space on GLE to get a goal. Stout and attackman Aaron Fjeldsted would each get a goal by the end of the quarter to give Utah a 6-4 lead.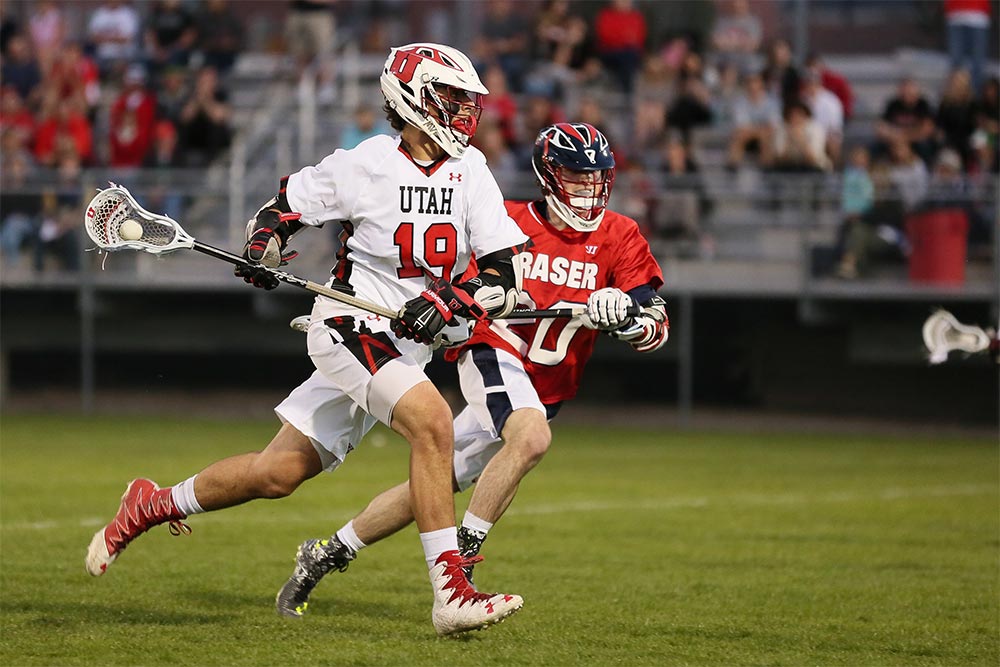 The Utes would tally two more goals out of the break before Simon Fraser scored one at the 12:07 mark, making the score 8-5 for the Utes. The Utah offense kicked into high gear and went on a 5 goal run to take a 13-5 lead into halftime. The run began when midfielder Jake Stout dodged from the top of the box and found fellow midfielder Gus Colonna wide open on the wing who nailed the top left corner on a time and room shot. Colonna would add another goal shortly after followed by Josh Stout, Anderson and Stout again to close out the half.
The second half was more of the same from the Utes. The offense continued to score goals and the defense continued to make stops and cause turnovers en route to a 21-9 victory. Nine Utes tallied at least one point on the night. Anderson had his best game in a Utah uniform with 3 goals. Attackman Austin Croyle scored his first goal of the season and also tallied an assist. Stalwarts Colonna and Jake Stout each had 2 goals and 1 assist. Fjeldsted had his best game in crimson and white with 4 goals and 3 assists. Midfielder Ian Elson had 2 goals while attackman Cam Redmond and Hill each had one assist. Goalie Quinton Swinney had 7 saves in the win for the Utes.
Utah (5-2) will host Nevada on Thursday, March 23 at 7:00pm MT. The game will be stream on our Gameday page, our YouTube channel, Lax Sports Network and Lax All Stars.
Quotes
Head Coach Brian Holman on what he liked about the game:
"I liked the fact that we shared the ball and we ran our offense to a second and third level. We shot the ball really well. We didn't turn the ball over like we have been. Defensively, Coach Ghitelman made an adjustment after the first quarter to our slide packages and the defense rallied behind that. All in all, a good performance. Still a few things to clean up but we'll work on that."
Head Coach Brian Holman on who stood out on the field:
"1 and 40, Josh (Stout) and Aaron (Fjeldsted), I thought they really took control of the field early. I thought Noah (Hill) at the face-off X did well. We've been struggling there and we kept him out there for four quarters to get the extra work and I thought he did an awesome job."
Head Coach Brian Holman on the 4 game in 7 day stretch:
"It was such a valuable experience for us and it will really set the tone moving forward. We had to travel to California and we played two games out there. We played tough opponents. We learned a lot about each other, we saw guys grow up. We saw guys step up. This was an awesome, awesome week. We ended up 2-2 and that's probably where we should be but we learned way more then just the wins and losses will get us."
Attackman Josh Stout on what he was seeing on offense:
"The offense just flowed tonight and it opened up opportunities for me to score and playing as a team really led to that."
Attackman Josh Stout on playing 4 games in 7 days:
"It was fun, but a grind. It was nice to get a victory to cap it off. A nice, happy ending."