Utes Prepping for Aggies, Broncos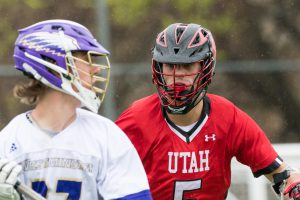 The University of Utah Men's Lacrosse team has two games this week against familiar foes.
"What a great 4 days we have ahead of us opening our conference play with a very tough opponent in Utah St and then home on Saturday vs Boise St who has been playing very good lacrosse," said Utah Head Coach Brian Holman. "Another wonderful opportunity for our program to get better, we are all excited and grateful for what lies ahead."
On Wednesday, No. 11 Utah (6-2) will open Rocky Mountain Lacrosse Conference play against the Aggies in what has traditionally been a very competitive rivalry. The Utes enter the game averaging 14.4 goals per game and are led by attackman Josh Stout (20G/4A). The Ute defense has been stingy in the last three MCLA games, giving up an average of six goals per game. Goalie Quinton Swinney has 73 saves on the season and is averaging 10.429 saves per game. Utah State is led by Hunter Albert (13G/6A) and Gary Christensn (13G/4A). Goalie Phil Cannell has 86 saves and is averaging 10.750 saves per game. The game will begin at 6pm at the Legacy Fields on the Utah State campus.
On Saturday, the Utes will host Boise State at Ute Soccer Field. The Broncos are led by Braydon Holzer (20G/10A) and Alex Wilson (12G/1A) and will enter the weekend with a 4-2 record. Utah is 4-1 against the Broncos in the last five meetings. The game will begin at 2pm and will be streamed on our Gameday page, YouTube, Lax Sports Network and Lacrosse All Stars.