Utes Revving Up For 4 Games in 7 Days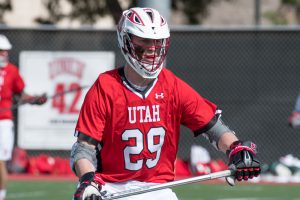 After going 3-0 to open the 2017 season, the Utes will be back in action with four games in seven days beginning this Friday with a showdown against No. 10 Arizona State at Ute Soccer Field.
"After getting a little break from our 3 games in 5 days we jump right back in the fire with 4 in 7 starting with a very tough, hard nosed battle tested Arizona State team on Friday," said Utah Head Coach Brian Holman. "Then head west to play two extremely well coached, tough teams in Cal and Stanford then finish at home next Friday against a very difficult team to prepare for in Simon Fraser. This is Phase 2 of our season and each opponent presents unique challenges for us."
No. 10 Arizona State @ No. 9 Utah
March 10, 7:00pm MT, Ute Soccer Field
The Sun Devils will enter the contest on Friday in its fourth game in six days after losing 9-6 to BYU on Saturday, a double overtime victory against Virginia Tech on Monday and a victory over Utah Valley on Wednesday. On the season, the Sun Devils are 4-4 with losses to No. 7 Florida State, No. 1 Georgia Tech, No. 6 Colorado State and No. 2 BYU. The four ASU wins were over Georgia, No. 8 Colorado, No. 20 Virginia Tech and Utah Valley. Attackman Jake Marthens has been leading the charge for the Sun Devils with help from midfielder Tommy Carrasco and Ben Parietti. Utah has lost the last seven meeting between the two schools with its last win coming in 2005.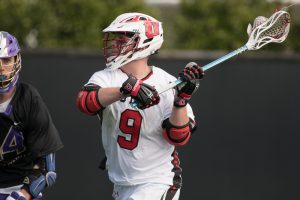 No. 9 Utah @ No. 5 Cal
March 13, 8:30pm MT, Monte Vista HS, Danville, CA
A quick turnaround will see the Utes on the field on Monday against the No. 5 ranked Cal Golden Bears in Berkeley, California. Cal Head Coach Ned Webster has the Golden Bears firing on all cylinders which has led to a perfect 6-0 record. Cal will face Santa Clara on Friday before hosting the Utes. Utah and Cal have common opponents in Washington (Utah won 18-10, Cal won 13-4) and Chapman (Utah won 12-9, Cal won 12-5). The last meeting between Utah and Cal was in 2012 at the Pac-12 Shootout when the Golden Bears took home a 9-4 win. Cal is led by attackman Max McKone who has 27 goals on the year.
No. 9 Utah @ Stanford
March 15, 8:00pm MT, Stanford University
A day off in the Bay Area will give the Utes an opportunity to prepare for a showdown with Stanford on Wednesday in Palo Alto, California. The Cardinal is currently 3-3 on the season and will take on Boise State and Nevada this weekend. Midfielders Matt Klein and Eric Lee have been at the top of the scoresheet for the Cardinal this season. Stanford lost to Chapman on February 26, 17-7 in the only game against a common opponent so far this season. Stanford beat Utah 14-6 in 2016 at the Pac-12 Shootout.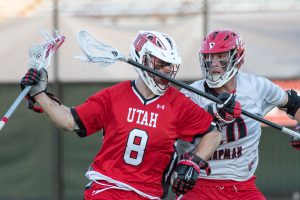 Simon Fraser @ No. 9 Utah
March 17, 6:00pm MT, Ute Soccer Field
The Utes will complete the stretch on Friday, March 17 when it hosts the Simon Fraser Clansmen. The Clan will come into the game having faced Oregon and SMU the previous weekend to add onto their 1-1 record. Utah is 1-2 against Simon Fraser in the last three meetings with the lone win coming in an overtime thriller in 2011.
New Faces
As a team always looking to improve, Coach Holman announced the hiring of Tim McDermott to the staff. McDermott will work with the face-off specialists, having filled the same position at the University of Virginia 2 years ago.
Follow Along
Be sure to the follow the team on Twitter, Instagram, Facebook and YouTube. All games will be streamed on our Gameday page. *Internet streaming is subject to internet speed and reliability at each field. Maps and parking instructions can be also be found on our Gameday page.