Notebook: Utes Prepping For RMLCs, Record Breaking Season, Austin Honored
Rocky Mountain Lacrosse Conference Playoffs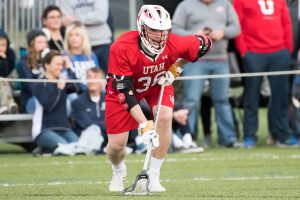 The University of Utah men's lacrosse will head to Boulder, Colorado this weekend for the Rocky Mountain Lacrosse Conference playoffs. The No. 1 seeded Utes will take on familiar foe, No. 4 seeded BYU, at 4pm on Friday in the first semifinal. The winner will take on Colorado or Colorado State on Saturday at 5pm in the RMLC Championship game. The RMLC playoff champion will receive an automatic qualifier bid to the MCLA National Tournament that begins on May 8 in Southern California.
"We are honored to play in the RMLC tournament and excited for the challenge that is ahead of us," said Utah Head Coach Brian Holman. "BYU is a great team and program and for us to take another step forward we must find a way to compete with them this Friday."
The trip to the playoffs will be the first for the Utes since 2014 and the first trip to the semifinals since 2013. This will be the first time Utah has entered the playoffs as the No. 1 seed. The Utes have never advanced to the RMLC Championship game.
Please visit our Gameday page form streaming information and a fan guide if you're joining us in Boulder.
Record Breaking Regular Season
The Utes ended the regular season with a 10-5 record, its first winning and 10-win season since 2010 when the Utes went 10-4. The season also marks the first time the Utes finished the regular season in the Top 10 with a No. 9 ranking released on Wednesday in the final regular season MCLA poll. Josh Stout set a modern era single season record with 40 goals, eclipsing Mark Manning who had 35 in 2010. The season was also the first season where the Utes bested RMLC rivals Colorado and Colorado State at home. They had previously beat both teams in the same season on the road in 2008. The 12-9 season opening victory against then ranked No. 1 Chapman was the first time the team took down a No. 1 ranked team.
Sean Austin Honored
Last Friday, attackman Sean Austin was recognized for exemplary behavior in the community. Austin was alerted that a Chef was having a heart attack in the kitchen of the Lassonde Studios and immediately responded to the situation. He performed CPR until paramedics arrived, which ultimately saved Chef Jason's life.