Seven Utes Earn RMLC Honors
The Rocky Mountain Lacrosse Conference has named 7 Utes to the 2017 RMLC All-Conference teams. Freshman Josh Stout headlines the list as a 1st Team All-Conference Attackman. The last Ute player to be on named to the 1st Team All-Conference was Mark Manning in 2011.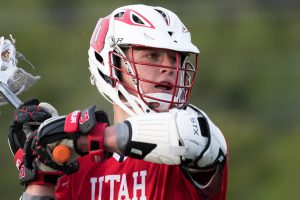 Stout finished the regular season with 40 goals and 11 assists, a single season record for goals. Stouts best game was a 7 goal, 1 assist outing against Simon Fraser on March 17. Perhaps the most quiet part of his game, Stout is known as being an aggressive defender in a ride which led to 8 caused turnovers, several of which led to transition goals. Stout was also named as the 2017 Rookie of the Year.
"It means a lot to me to be named All-Conference," said Stout. "But I never could have done it without my teammates and coaches. They always push me to get better and have always helped me to get to this point."
Sophomore attackman Aaron Fjeldsted and sophomore midfielder Jake Stout were named to the 2nd Team All-Conference team. Fjeldsted finished the regular season with 30 goals and 19 assists. Fjeldsted was a 3rd Team All-Conference attackman in 2014 with BYU. Jake Stout finished with 23 goals and 7 assists.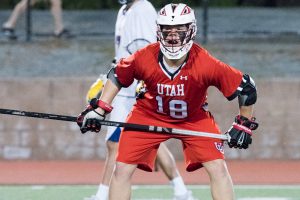 Sophomore defender Kendall Jackson, freshman LSM Seth Neeleman, sophomore goalie Quinton Swinney and junior midfielder Gus Colonna were named as Honorable Mentions. This is the second post-season award for Jackson who was a 2nd Team All-Conference defender in 2016. Swinney was also an Honorable Mention selection in 2016.
"Our staff and team is so happy for and proud of the players that made All-Conference," said Utah Head Coach Brian Holman. "The honor is well deserved these guys are all good players but even better teammates."
The No. 1 seeded Utes begin the RMLC playoffs tomorrow at 4pm against No. 4 BYU in Boulder, Colorado. The winner will face No. 2 Colorado or No. 3 Colorado State on Saturday for the RMLC Championship at 5pm.