Utah Takes Down Colorado State
The University of Utah Men's lacrosse team held off No. 10 Colorado State on Saturday, improving to 9-3 on the season. The No. 13 Utes walked away with a one-goal win, 7-6.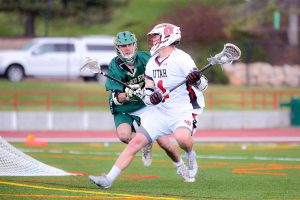 Utah scored on its first possession when attackman Aaron Fjeldsted found the top shelf on a high to high rip. The Utes defense had a strong first half, keeping the Rams scoreless by forcing outside shots which goalie Quinton Swinney gobbled up. Fjeldsted, midfielder Cam Redmond and attackman Josh Stout scored in the second quarter, giving the Utes a 4-0 halftime lead.
Colorado State came out of the halftime break with all the momentum and reeled off 4 goals over a four minute span to tie the game with 9:39 left in the third quarter. Fjeldsted scored the lone goal for the Utes in the quarter when Stout found him wide open on the crease. Fjeldsted quick-sticked it in for the easy goal.
Utah extended its lead when midfielder Ian Elson drove down the alley then used a question mark dodge to get his hands free, resulting in a low-to-low, far pipe worm-burner. The Rams scored the next two goals, tying the game at 6 with 10:47 left in the fourth quarter. Midway through the quarter, Utah had a man-up opportunity that led to Stout finding Redmond at GLE, wide open with a one-on-one chance. An offensive veteran, Redmond passed up the opportunity for a goal and fed Fjeldsted on the crease who quick-sticked it in for what would be the game-winning goal. The Utes defense continued to perform, keeping the Rams from getting good looks while the Utah offense killed the clock en route to a key Rocky Mountain Lacrosse Conference victory.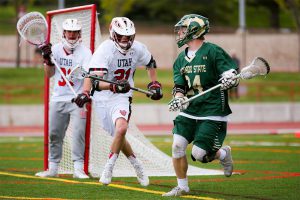 Fjeldsted led the Utes with 4 goals. Swinney had 13 saves for Utah. With the win, the Utes are currently in first place in the RMLC with a 3-0 record. Every other RMLC team has at least one loss. The Utes will look to improve in conference play on Tuesday when Utah Valley comes to town. The game will begin at 7pm at Ute Soccer Field.
Quotes
Head Coach Brian Holman on how it feels to win another Top 10 match-up:
"It feels great and I'm just happy for the team and the coaches. They put a ton of work into this. We've had two, one goal games and to win both of those is a credit to the hard work and preparation of the coaching staff."
Head Coach Brian Holman on if the team has hit its stride:
"We've got a lot more to do. I'm not a believer on finding strides, I just think as a coach and a team you take it day by day and game by game. We've done a great job lately of focusing on the next opponent and that's worked."
| | 1 | 2 | 3 | 4 | Final |
| --- | --- | --- | --- | --- | --- |
| CSU | 0 | 0 | 4 | 2 | 6 |
| UTAH | 1 | 3 | 1 | 2 | 7 |