Utes Head South to Face BYU on Saturday
The University of Utah Men's lacrosse team will journey south to face rival BYU on Saturday in the season finale for both teams.
"Playing BYU is an honor for our program they have set the bar for lacrosse excellence in our conference and in our state, we are excited about the challenge that lies ahead," said Utah Head Coach Brian Holman.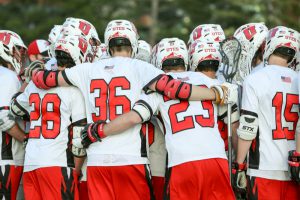 Utah (10-4, 4-0) enters the game after a full week of practice following a 10-8 loss to now ranked No. 19 Texas. The Cougars (11-4, 2-2) are coming off a 15-6 win over Utah Valley on Wednesday. Three of the four Utah losses this season came to teams that BYU beat while Utah has beat the four teams BYU has lost to.
The Utes are led by Josh Stout who has 38 goals and 11 assists and Aaron Fjeldsted who has 28 goals and 18 assists for the year. BYU is led by Tanner Johnson (28G, 9A) and Harry Waddoups (25G, 16A).
The outcome of the game bears no weight on the conference race as Utah has already clinched the No. 1 seed for the Rocky Mountain Lacrosse Conference playoffs. The Cougars are slated as the No. 4 seed which means the two squads will see each other again on Friday, April 28 in the RMLC Semifinals in Boulder, Colorado.
The game will begin at 7pm at the North University Fields (map). Tickets are available in advance from tickets.byulacrosse.com. The game will also be streamed via live.byulacrosse.com.
Be sure to follow the action via social media on Twitter, Instagram and Facebook.