UVU, Texas Coming to Town This Week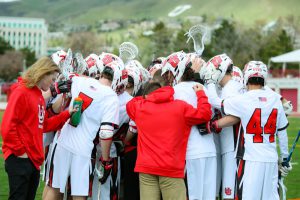 The University of Utah Men's lacrosse team will finish its home schedule this week with an in-state Rocky Mountain Lacrosse Conference match-up against Utah Valley on Tuesday and a showdown with Texas on Thursday.
"Another big week for our program we have a conference rival who has beaten us the last 2 years running and a very strong Texas team," said Utah Head Coach Brian Holman. "We have much respect for both teams and  and eagerly accept the challenge that lies ahead."
The Wolverines are 2-1 against the Utes in the last three meetings between the teams. The last Ute victory came in 2014. UVU is led by Justin Haws (16G, 2A) and Erik Stagg (11G, 3A). Jaden Foster leads the team in groundballs (32) while Bryson Williams anchors the defense in goal with 100 saves on the season.
Texas will be the first opponent the Utes have faced from the Lone Star Alliance since 2005 when Texas A&M and Baylor visited the Beehive State. The Longhorns enter the game on a three game winning streak and are 10-1 overall. Texas is led by Noah Star (27G, 23A) and Thomas Hebner (23G, 13A).
The No. 13 Utes enter the home stand coming off a 12-11 upset over No. 3 Colorado on Thursday and a 7-6 victory over No. 10 Colorado State on Saturday. The wins propelled the Utes into first place in the RMLC with two conference games remaining. Josh Stout leads the team with 32 goals and 7 assists. Aaron Fjeldsted, coming off a 4 goal game against CSU, has 25 goals and 17 assists. Seth Neeleman continues to dominate groundballs between the lines and goalie Quinton Swinney has 129 saves and a 0.540 save percentage.
Both games begin at 7pm at Ute Soccer Field. Follow all the action on Twitter, Facebook and Instagram. Both games will also be streamed on uteslacrosse.com/gameday, Lax Sports Network and Lacrosse All Stars.