Utes Season Ends With Overtime Loss in MCLA National Tournament
The University of Utah Men's lacrosse team lost in the first round of the MCLA National Tournament on Monday at the hands of the Chapman Panthers. An overtime period was needed to crown a winner which led to the Panthers getting the game-winning goal and a 9-8 victory.
Midfielder Gus Colonna opened the scoring early in the first quarter on a bounce shot after finding space on an alley dodge. The Panthers would equalize a few minutes later. After great defensive play by both teams, the first quarter ended in a 1-1 stalemate.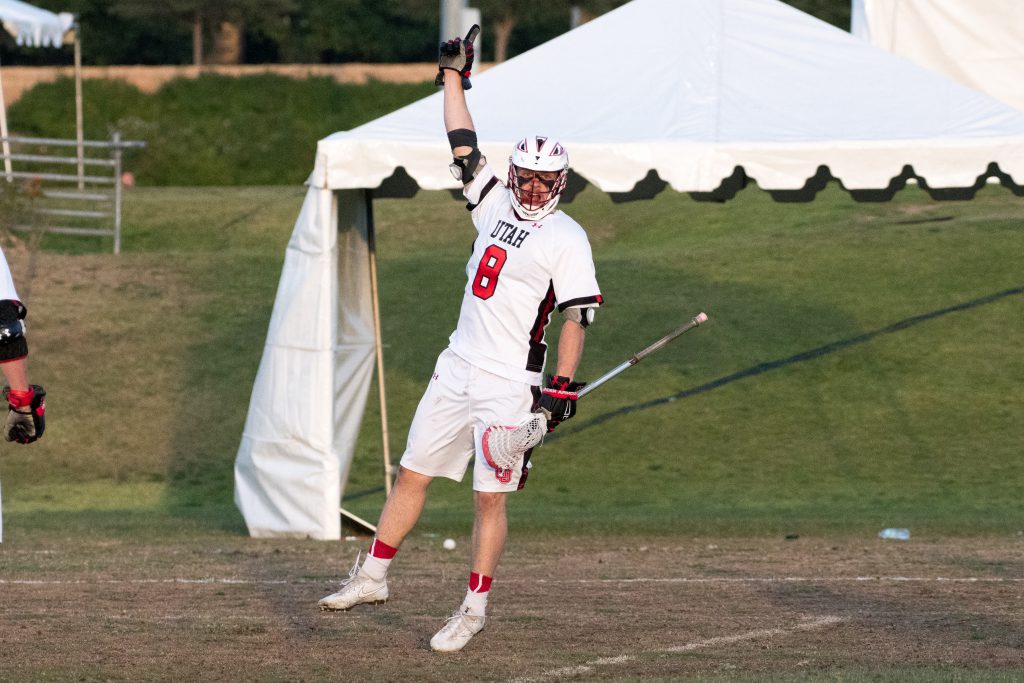 Chapman went on a three goal run to open the second quarter. After a defensive takeaway while man-down, the Utes transition worked to perfection when midfielder Deen Anderson led the break, found attackman Luke Graney on the wing who quickly dished to attackman Josh Stout who buried in the back of the net to give Utah a shorthanded goal, making the score 4-2. Midfielder Cam Redmond scored his first goal of the game on a great dodge that let him get inside his defender and go one-on-one with the goalie. The half with end with the Utes trailing, 4-3.
Chapman scored the first goal of the second half but Colonna answered right back with a step down from the wing. The Panthers would score next but it was answered with three straight Utah goals as the Utes regained the lead since the first goal of the game. The run was started with a phenomenal wing shot from midfielder Jake Stout who buried the ball in the side pipe after taking a slash to the shoulder. Colonna scored next for the Utes on a slow break, getting his hands free from outside and taking a low rip for the goal. Off a restart, Josh Stout found attackman Aaron Fjeldsted who took one step and ripped a low to high shot into the top left corner. The third quarter would end with the score of 7-6 for Utah.
Josh Stout extended the Utes lead to two goals on his signature wrap around shot from X. Stout couldn't have placed it any better as it found the top left corner of the goal. The Panthers would come back though, scoring two late goals, sending the game into overtime.
In the overtime period, Utah lost the face-off and was called for a penalty. The Panthers took advantage of their man-up opportunity a minute into the overtime, nailing an outside shot to win the game.
The Utes finished the season with a 10-7 record, its first winning season since 2010 and its second ever national tournament appearance. The first came in 2005.
Quotes
Utah Head Coach Brian Holman on the overall game:
I was really proud of our guys. I thought we executed well. We didn't make some plays down the stretch and we have to give credit to Chapman. Their the defending national champs, we're on their home turf and they made some plays down the stretch to win the game."
Utah Head Coach Brian Holman on what he told the team heading into overtime:
"We practiced that situation every single week since September. We do it get comfortable in that situation and rely on the training. Unfortunately we didn't get the ball and they ran a nice play and took a really great lacrosse shot: a high to low off stick shot."
Utah Head Coach Brian Holman on the favorite moment from the season:
"There's so many. I look back at the weekend with Colorado and Colorado State and I think we made a mark for our program that weekend. The celebrations after those games I'll never forget. Jumping around in the huddle with the guys after each game will always stick out in my mind."