A Letter From Coach Holman to the Utah Lacrosse Community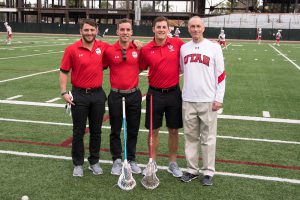 Dear Utah Lacrosse Community,
On behalf of the coaching staff, support staff and team, I would like to thank everyone so much for making this past lacrosse year one of the most fun we have ever had. Your support, encouragement, and cheering were a tremendous source of energy for all of us and most importantly our team. I hope you found our effort and play worthy!
We are on to something special within the lacrosse community here in Utah because we are all doing it as one and I hope you know that the Utes will always be there to help you in any way we can. The spirit of our wonderful game lives in and through us all. Let's keep building that spirit together!
Thanks again for an amazing year, and I truly look forward to what's ahead.
With humility, gratitude, passion, honesty and trust we are Utah Lacrosse.
Go Utes!
– Brian Holman, Head Coach