Utes Wrap-up Tryouts, Look Forward to Fall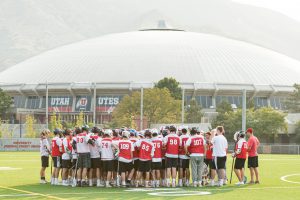 For the last three days, Ute hopefuls donned red and white pinnies while being put through the paces by the Utah Men's Lacrosse coaching staff and special guest coaches, Scott Ratliff and Tom Schreiber.
"The biggest thing I liked this week was the level of commitment from our returning guys that set the tone for the younger guys," said Utah head coach Brian Holman. "Our staff was so happy with that. They set that tone then that helps the younger guys realize what it takes to play Utah lacrosse. It's been a great three days. Our circle of growth will expand with this group. Great effort from everyone and great attitudes."
Ratliff, a 2017 MLL All-Star (LSM) and a teammate on the Atlanta Blaze with assistant coach Adam Ghitelman joined the staff to help coach defensive players but also offer his unique insight into the game.
"It's been a great experience. The coaches have really taken care of us and the best part has been the players coming out and having that interaction with them on the field," said Ratliff. "The first morning we walk out here and saw the view from the field, it was amazing. It may be the best I've ever played on. It's my first time coming to Utah and everything is just eye-opening. It's beautiful."
Schreiber, the 2016 & 2017 MLL MVP and teammate with assistant coach Marcus Holman, was eager to coach and help the player improve. Fresh off an MLL Championship run with the Ohio Machine, Schreiber helped Holman and assistant coach Will Manny run drills and evaluate the offensive players.
"It's been amazing. Seeing these guys come together in three days has been great to see," said Schreiber. "Having the chance to build something is so cool and to see them get this started in these first couple days was awesome. It's important to never be satisfied and always keep improving."
The Utes will jump into the fall practice and conditioning schedule in preparation for the 2018 season. The 2018 schedule and any fall scrimmages will be announced as they are confirmed. Be sure to follow the team on Twitter, Instagram and Facebook for the latest news and information.
There are still a few spots open for the upcoming clinics and prospect days. Please visit our camps website for more information: www.uteslacrossecamps.com