Bay Area Trip Wraps Up Fall Ball
The University of Utah Men's lacrosse team headed west last weekend to Redwood City, California in the last set of scrimmages for the fall. The Utes faced Scotland, who are prepping for the 2018 FIL World Lacrosse Championship next summer and Division I foe Marquette, who qualified for the 2017 NCAA Playoffs after winning the Big East Conference Tournament.
"Our goal for this trip was one of bonding learning and growing together as a team and program and that's what was accomplished," said Utah head coach Brian Holman. "I am so proud of our boys and staff we had fun competed hard and got better mission accomplished."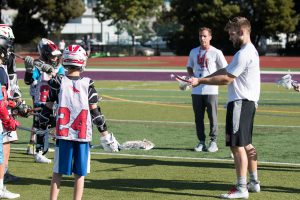 The Utes began the trip with a short walkthrough at Sequoia High School followed by a clinic for local youth players. The coaching staff and players joined with players and coaches from Scotland to make the clinic fun and enjoyable for the kids, while practicing shooting, back cuts, off-ball movement and more. Holman addressed the parents and players afterwards and encouraged the kids to put their best effort into their school work.
"If you put your best effort into your schoolwork, we know you'll put your best effort in on the lacrosse field," said Holman. "The better you do in school, the more doors that will be opened."
The Utes squared off against a tough Scotland team who finished their training camp on Saturday.
"What a wonderful day celebrating this game we love a clinic that had over 100 kids, an opportunity to play the Scottish National Team who are very well coached and presented us with many challenges and to pull out a win in Double OT and then have a great team meal to end the day, doesn't get much better," said Holman.
On Sunday, the Utes once again began the day with a clinic for local youth players. Coaches and players from Marquette and Utah continued to pass on their knowledge of the game while the kids soaked up the information.
The Utes then faced the Golden Eagles who also finished its fall ball campaign on Sunday.
"First of all just want to thank Coach Amplo and Marquette for allowing us to play them we were so grateful for this opportunity and what we gained from it is so valuable to us all, what a great way to end this trip," said Holman. "We have a long way to go but we are going to relish every step and that #13 will be a motivating force for our program for some time to come."
The next opportunity to see the Utes in action will be the home opener next spring. Season tickets will go on sale in early 2018.