BSN Lacrosse to Host Coaching Clinic Featuring Utah Coaching Staff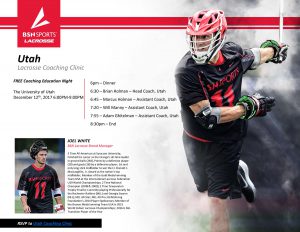 On Tuesday, December 12, BSN Lacrosse will be hosting a FREE coaches clinic featuring Utah head coach Brian Holman and assistant coaches Adam Ghitelman, Marcus Holman and Will Manny.
"The thought process for these free coaching events is to bring the local lacrosse community together, engage with one another on a different level than just coaching against each other, all while learning from some great coaches," said Joel White who is the National Brand Manager for BSN Lacrosse. "The speakers will be touching on all parts of the game from offensive/defensive perspectives, drills/skills and goalie play, ending with a Q&A. For me, being able to do these events around the country has been a treat and I am grateful to BSN Sports for allowing me it. The goal is to grow this great game, I believe this is a small but pretty cool way to do that. I am very appreciative of the Utah coaching staff for being completely on board to both host and present to the attendees their wealth of lacrosse knowledge. I am excited for a great event!"
The event will begin at 6pm in the Student Life Center (map) on the University of Utah campus.
6:00pm – Dinner
6:30pm – Brian Holman
6:45pm – Marcus Holman
7:20pm – Will Manny
7:55pm – Adam Ghitelman
For more information and to RSVP for the event, please click here.