2018 Campaign Begins in Southern California With 3 Games in 4 Days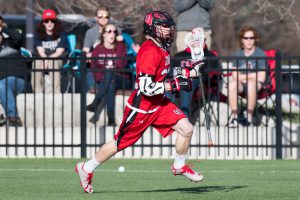 The University of Utah Men's lacrosse team will begin its 2018 season on Thursday with a showdown against No. 10 Cal Poly in San Luis Obispo, California. The Utes will then head to Los Angeles for the Pac-12 Shootout at UCLA. On Saturday, Utah will take on Arizona then finish the trip against No. 3 Cal on Sunday.
"What a wonderful way to kick off the season with a perennial power in Cal-Poly and two excellent PAC-12 teams that we have not had very much success against in the past," said Head Coach Brian Holman. "The benefits we hope to gain from this trip should be invaluable for all of us as we begin this 2018 journey."
Cal Poly enters the game with a 1-0 record after besting Nevada on Saturday, 18-2. The last meeting between the two teams was in 2008 when the Mustangs won 10-8.
The Utes will be the first test for the Wildcats in the 2018 season. Utah lost to Arizona in the last meeting between the two teams in 2016 at the Pac-12 Shootout.
Cal will have four games under its belt when they take on the Utes on Sunday. The Golden Bears beat UC Davis, Texas and Chico State by a combined score of 49 to 10. The Golden Bears take on No. 7 Arizona State on Saturday. Utah faced Cal in the 2017 season, losing 13-5, its worse loss of the season.
"I think the coaches have done a great job in preparing us for this week," said captain Gus Colonna. "Playing 3 games in 4 days requires everyone to be locked in physically and mentally, and I think we're ready. This week I'm hoping to watch all the the nights in the weight room and the mornings on the practice field pay their dividends. We've been putting in countless hours preparing for February 15, and I think I speak for all the guys on the team when I say we're excited to play someone in a different colored jersey."
How to Watch
Stay tuned to our Gameday page for streaming information and field locations.
Follow Along
To get the complete gameday experience, follow the team on Twitter, Instagram and Facebook.
Podcast
Listen to Coach Holman as he talks about the upcoming season on Episode 001 of the Utah Lacrosse podcast. In Episode 002, Assistant Coach Adam Ghitelman breaks down the defensive side of the ball and what he's looking forward to this season.