Assistant Coach Adam Ghitelman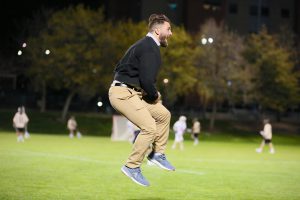 Episode 2 of the Utah Lacrosse Podcast features assistant coach Adam Ghitelman. Coach 'Ghits' is the mastermind behind the defense for the Utes and the wizard with the goalies. Join me as I talk to Coach Ghitelman about the upcoming season, the impact of the returning Ute poles and goalies, defensive schemes, lacrosse in developing countries, growing the game and more.
The picture I choose for this episode is of Coach Ghits catching air after last years goalie goal by Quinton Swinney. I had spoken with 'Q' before the game and he said, 'Watch out for a full field goal. We've seen the tape and we think we can get it.' Sure enough, Q found the back of the net.
Hope you enjoy the show.
— Tim Haslam, Utah Men's Lacrosse SID
Time Stamps
1:40 – Coach Ghitelman
2:30 – Tryouts/Fall Ball
4:30 – Returning Players – Poles & Goalies
7:35 – Goalie Play/Expectations
10:00 – Defensive Philosophies
13:45 – Importance of Film
18:50 – Origin Story
20:45 – Greatest Lacrosse Accomplishment
22:00 – Coaching/Teaching/Growth in other Countries
27:45 – Growth in the West
35:15 – Favorite Pillar of Utah Lacrosse
37:05 – Rapid Fire Questions
Questions/Comments/Feedback is always welcome: tim@uteslacrosse.com or on social media (Twitter, Facebook, Instagram)
Podcast: Play in new window | Download
Subscribe: Apple Podcasts |