Utes Defeat No. 3 Cal, 18-6
The No. 8 University of Utah Men's lacrosse team completed the road-trip sweep on Sunday with an 18-6 win over No. 3 Cal at the Pac-12 Shootout in Los Angeles. Attackman Josh Stout once again led the team with 6 goals and 4 assists.
Midfielder Cam Redmond scored first on a great feed from midfielder Jonathan Rose. Midfielder Liam Cavanaugh-Fernandez scored next when he found space at the top of the box for a time and room shot where he buried it in the back of the net, giving Utah an early 2-0 lead. Attackman JoJo Olivas extended the lead for the Utes when he dodged from X and beat his man, finding space just above GLE for the inside pipe goal. After a blocked shot the ball was loose on the left side of the field where a scrum ensued. With the ball on the turf, Josh Stout came away with it and was unmarked as he went one on one with the goalie and scored while falling forward to make the score 4-0 for Utah. The Utes continued to run and gun with goals by attackman Quinault Mackey and midfielder Steven Ganelin to bring the score to 6-0. Cal would steal a goal late in the quarter to end the quarter with a score of 6-1.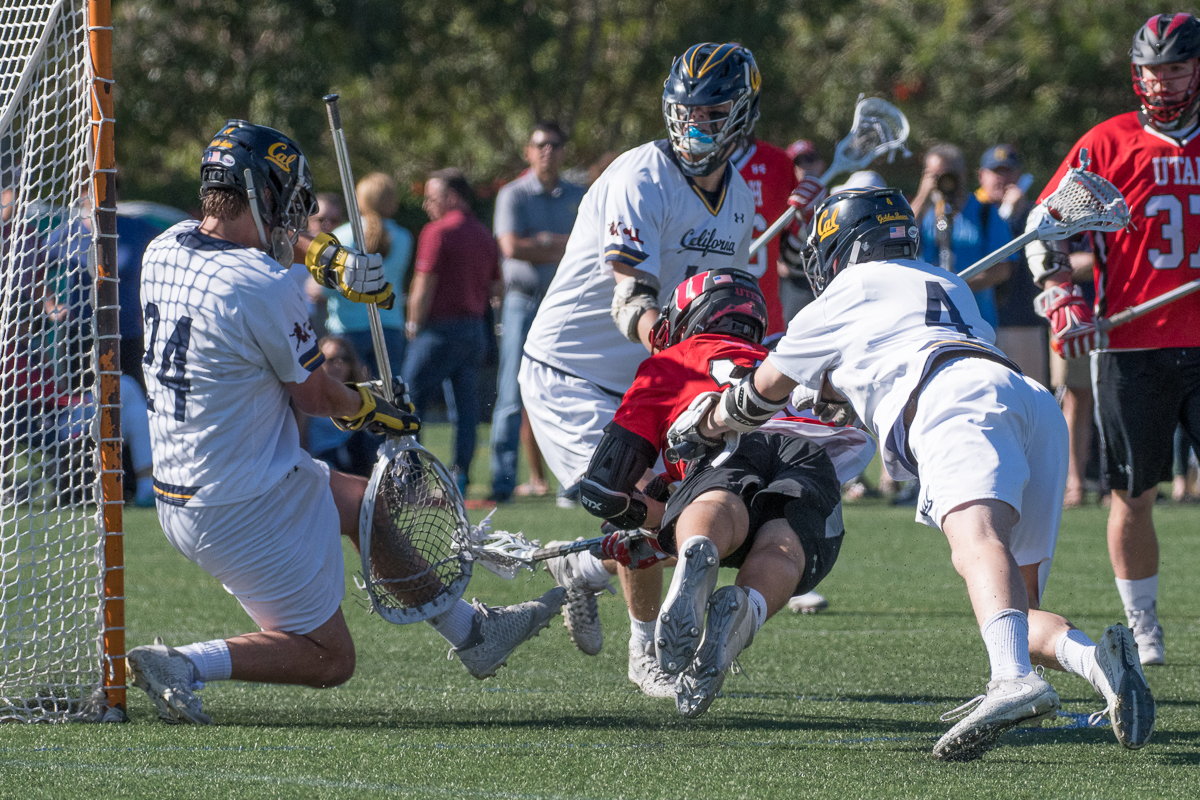 Josh Stout continued to lead the team as he assisted the next goal when he found Redmond who buried a high-to-high step down. Midfielder Jake Nutter picked up a scrappy groundball on the ensuing faceoff who then found Stout who scored. Midfielder Jeremy Sartin found Stout moving in front of the crease who caught it and backhanded it in to give the Utes a 9-1 lead late in the half. Cal would notch two more goals, making the halftime score 9-3.
The young Utes continued to play like veterans in the second half, scoring six goals and allowing just two. Defenseman Seth Neeleman started a fast-break and dished to Stout who found Olivas who buried his shot in the top shelf. Cal scored another goal before Utah goalie Daniel Costa made a huge, cross-crease save that led to Rose leading the clear who found Stout who shot and scored. Mackey notched back-to-back goals for the Utes while Olivas and Stout scored again, giving Utah a 15-5 lead after three quarters of play.
Stout opened the scoring in the fourth quarter on a hidden ball trick. Jake Stout and Sartin chased down a loose ball and appeared to both scooped it up. Sartin came away with it while Stout went to X. Sartin found Josh Stout who shot on an open goal as the goalie was looking at Jake Stout behind the goal. Cole Watson added two goals late in the game, giving Utah an 18-6 victory in another great performance by the Utah defense.
"I'm just really, really proud of the guys," said Utah Head Coach Brian Holman. "They were really intent and very focused and very excited. They executed what we asked them to do."
Josh Stout finished with 6 goals and 4 assists. Olivas had 3 goals and 1 assist.
"I thought our attack played really well," said Holman. "The ball movement was there. This was one of the better team games since I've been here."
The Utes finished the weekend with three wins while showing progress in each game.
"The key word was progress," said Holman. "Our goal was to get better as a team and get better as a family. We have a long way to go, but we clearly got better. And we came away with things we can clearly get better at, so, mission accomplished."
The Utes will take to the road once again for its next game against Texas on March 1 in Austin, Texas.