Ten Utes Earn All-Conference Honors
During halftime of the Utes 17-10 win over Colorado to win the RMLC Championship, the RMLC announced the 2018 All-Conference teams. Ten Utes were named to nine spots.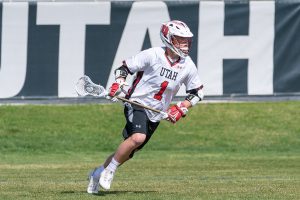 "As we all know Lacrosse is a team game, but the staff and I are so happy and proud of our guys that were recognized by the league," said Utah head coach Brian Holman, who was named the Coach of the Year. "They are all great leaders, great people, and hard workers, they earned it."
The list was led by sophomore attackman Josh Stout who led the league in goals (55), points (77), and points per game (5.13). Senior Gus Colonna and juniors Jake Stout and Aaron Fjeldsted made up the first team of midfielders. Freshman LSM Chris Belcher was named the best LSM and the Rookie of the Year.
Sophomore defenseman Seth Neeleman was named as a first team defenseman with freshman Rylan Lemons and junior Aidan Christian coming in as honorable mentions. Junior goalie Daniel Costa got the top spot in the goalie list for his play between the pipes.
2018 RMLC D-I All-Conference
Attack:
1st Team
Josh Stout (Utah)
Chandler Wescott (BYU)
John Roach (Colorado)
2nd Team
Carter Esqueda (Colorado)
Harry Waddoups (BYU)
Brian Quick (UVU)
Honorable Mention
AJ Stewart (CSU)
Winston Farley (BYU)
Ben Wharton (Colorado)
Midfield:
1st Team
August Colonna (Utah)
Jake Stout (Utah)
Aaron Fjeldsted (Utah)
2nd Team
Chris Severson (BYU)
Zach Labrum (BYU)
Derek Delahanty (CSU)
Honorable Mention
Connor Bernal (BYU)
Davis Barker (Colorado)
Ben Palitz (Colorado)
FOS
1. Broderick Vitalie (Colorado)
2. Tyler Clancy (BYU)
HM. Kenny Madison (CSU)
SSDM
1. Connor Williams (BYU)
2. Jake Hougaard (BYU)
HM. Walker Murphy (UVU)
LSM
1. Chris Belcher (Utah)
2. Zach Burbidge (BYU)
HM. Cameron Babin (Colorado)
Defense:
1st Team
Seth Neeleman (Utah)
Blake Sandman (Colorado)
Nick Cottrell (Colorado)
2nd Team
Daniel Simpson (CSU)
Trey Sayers (CSU
Arty Walters (BYU)
Honorable Mention
Aidan Christian (Utah)
Rylan Lemons (Utah)
Remington Peterson (UVU)
Goalie
1. Daniel Costa (Utah)
2. Dalon Hampshire (BYU)
HM. Frank Culhane (CSU)
Rookie of the Year
Chris Belcher – LSM – (Utah)
Coach of the Year
Brian Holman (Utah)