Utes Excel in Classroom, Finish 2018 With 3.3 GPA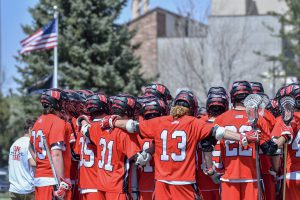 The Utah Men's lacrosse team excelled in the classroom this season, finishing with a combined Grade Point Average of 3.3 for the 2017-2018 school year.
"Just like they did on the field our boys were diligent, relentless, and showed great perseverance in the classroom," said Utah head coach Brian Holman. "Part of our overall process is to be and develop leaders in the classroom on the field and in the community! This team was aces! Our staff could not be more proud!"
Senior attackman Luke Graney finished with a perfect 4.0 in his final year as a Ute. Junior midfielder Austin Porter, sophomore defenseman Seth Neeleman, and sophomore attackman Josh Stout paced the team with GPAs in 3.8 range. Junior midfielder Jake Stout, Freshman defenseman Ben Adams, senior LSM Nate Berger, and freshman face-off specialist Jacob Chang excelled as well, each earning a 3.7 or higher.
Sixteen Utes placed on the Dean's List which is awarded for students who received a 3.5 GPA or higher.