TAP

As a Utah Lacrosse Camp participant, you are invited to take the online Troutwine Athletic Profile (TAP) survey for free as part of your camp experience. The TAP is taken by all NFL Draft prospects and is used by leading NFL & MLB teams such as the New England Patriots, Kansas City Royals and college teams like University of Utah Lacrosse and Northwestern University Football to develop a champion's mindset in all their players. Learn more about the TAP at http://athletetypes.com/company/
The TAP takes 20-25 minutes to complete and it is recommended that you take it on either a computer, tablet or large screen phone that has a strong Internet connection in a quiet place where you can concentrate.
CLICK HERE to take the TAP now
Or visit AthleteTypes.com to start the TAP and enter "UtahLax" when prompted to enter a team code
IMPORTANT — Please complete the TAP BEFORE you attend the camp. Your AthleteTypes results will be shared with the coaches working University of Utah events so they know your type and how to best coach you.
Upon completing the TAP, you will receive your FREE Athlete Type report that reveals your matched Athlete Type including your type's characteristics, strengths, areas of improvement and prominent pros that share your same type.
There is a free report for your parent too. All AthleteTypes have proven to be successful at the college and pro levels. Learning your AthleteType informs you of your best path to success in the mental game.
Finally, you will have an opportunity to work on your mental game with two free workouts in the AthleteTypes Mental Gym.
Which Utah Lacrosse Coach Shares Your Athlete Type?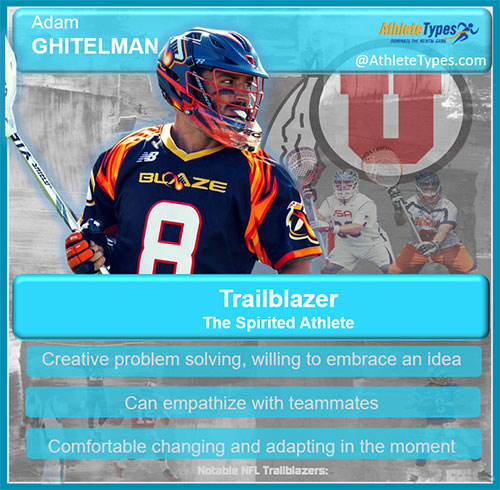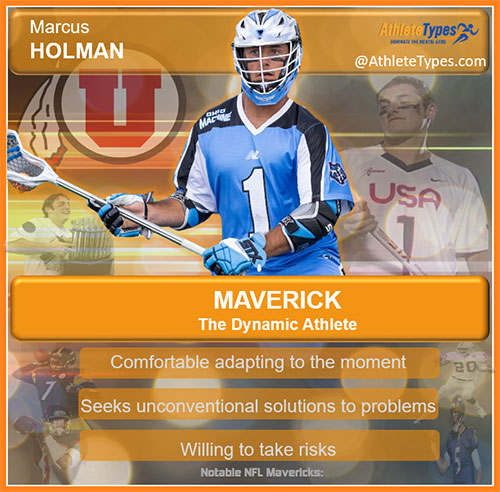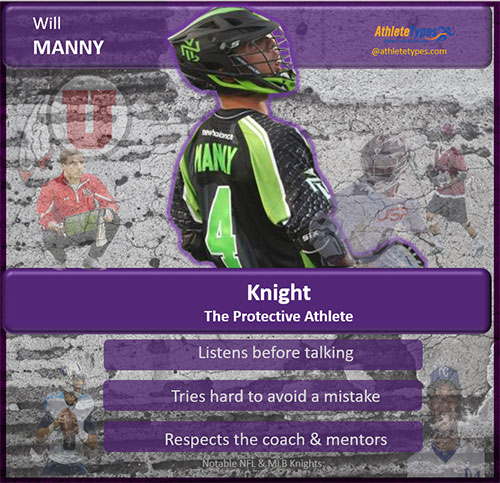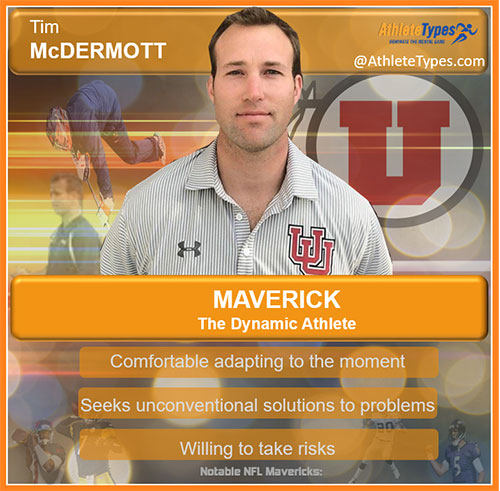 The TAP Athlete Types TM
Rocket – The DRIVEN Athlete – Brendan Fowler (MLL), Tom Brady (NFL), Evan Longoria (MLB)
Maverick – The DYNAMIC Athlete – Marcus Holman (MLL), Jameis Winston (NFL), Clayton Kershaw (MLB)
Eagle – The RESPONSIBLE Athlete – Joel White (MLL), Peyton Manning (NFL), Mike Trout (MLB)
Ice – The METHODICAL Athlete – Matt Ryan (NFL), Prince Fielder (MLB)
Musketeer – The HELPFUL Athlete – Chris Bocklett (MLL), Drew Brees (NFL), Andrew McCutchen (MLB)
Trailblazer – The SPIRITED Athlete – Adam Ghitelman (MLL), Cam Newton (NFL), Kris Bryant (MLB)
Knight – The PROTECTIVE Athlete – Will Manny (MLL), Marcus Mariota (NFL), Manny Machado (MLB)
Engineer – The INDEPENDENT Athlete – PT Ricci (MLL), Aaron Rodgers (NFL), Tim Linecum (MLB)