Brian Holman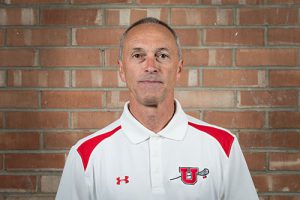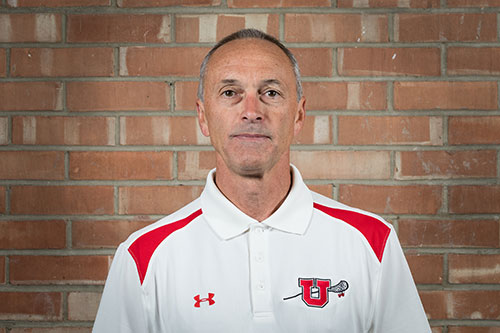 Head Coach
brian@uteslacrosse.com
Brian Holman, a veteran coach and former standout lacrosse goalkeeper at Johns Hopkins University joins Utes Lacrosse as the new Head Coach after serving eight years as an assistant for the North Carolina men's lacrosse program. In his eight seasons, the Tar Heels won an ACC Championship in 2013 and a National Championship in 2016.
Holman's lacrosse pedigree is a distinguished one indeed as a player and coach. He has been involved in collegiate lacrosse at all levels for the past 35 years as a player, coach and parent. Holman attended Johns Hopkins and was a member of the Class of 1983. As a player, he was a three-time All-America selection and played in four NCAA Tournament Championship games from 1980-83. Hopkins won the 1980 National Championship his freshman year.
Brian served as the goalkeeper coach and defensive coordinator at Johns Hopkins for seven years and won the 1987 National Championship. He was also an assistant coach at the Boys' Latin School of Maryland, head coach in the Maryland Youth Lacrosse Association and served as head coach of the Breaker's Club Lacrosse Team in Baltimore, Md.
Brian and his wife, Laurie, both from Maryland, are the parents of three children and all have had a life of lacrosse. Laurie, a graduate of Towson University, played lacrosse and tennis and has served as the Director of Operations/Camps for UNC Women's Lacrosse for the past 7 years. Matthew, a resident of Baltimore, MD, played goalkeeper for the Tar Heels and graduated in 2012. Marcus, who will serve as an Assistant Coach for the Utes and currently plays Major League Lacrosse for the Ohio Machine, was an All-America attackman for the Tar Heel men's lacrosse team and graduated in 2013 as the school's career scoring leader. He won honors as the ACC Freshman of the Year in 2010 and was elected captain of the 2012 and 2013 teams. Marcus was a Tewaaraton Trophy finalist in 2013, the ACC Offensive Player of the Year and ACC Tournament MVP. He played for Team USA at the 2014 World Championship games in Denver and Team USA 2015 indoor world Championship games in Syracuse. Marcus will join Team USA again in 2018 for the World Championships in Israel. Sydney graduated from UNC and after a successful college career on and off the field for the Tar Heels where she was named ACC & National Rookie of the year in 2014.