Utes Host Colorado, Colorado State This Week
The University of Utah Men's lacrosse team will continue conference play this week with two powerhouses coming to town. On Thursday, the No. 13 Utes will take on No. 3 Colorado. On Saturday, the Utes will host No. 10 Colorado State.
"We have a tremendous challenge on our hands this week with two traditionally ranked MCLA powers one of our goals is to compete with the "big boys"," said Utah Head Coach Brian Holman. "Well here we are! Hopefully we can accomplish that goal."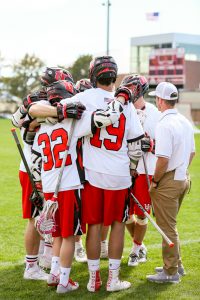 Colorado (11-2, 2-0) is riding a 10 game winning streak and will look to continue the trend. The Utes will be ready for the challenge after a great week of practice. Colorado is led by Colin MacIlvennie who has 34 goals and 4 assists on the season. Ben Warton and Jake Gonzales enter the game with 43 and 42 points respectively. The game will begin at 7pm at Ute Soccer Field.
Colorado State (8-5, 2-0) will come to town having played BYU on Thursday. The Rams are led by Blake Warner (19G, 8A) and Ashton Monheiser (16G, 16A). The Rams deploy a two goalie system with both Frank Culhane and Jake Bender notching a 0.61 save percentage. The game will begin at 1pm at Ute Soccer Field.
The Utes are led by Josh Stout (31G, 6A), Jake Stout (21G, 7A) and Aaron Fjeldsted (20G, 16A). Goalie Quinton Swinney has 102 saves on the season for a 0.523 save percentage. The Utes are 4-1 in the last 5 contests having dropped a nail-biter to Boise State last Saturday.
Both games will be streamed on our Gameday page, Lax Sports Network and Lacrosse All Stars. A map to the field and parking information can be found on our Gameday page. Also be sure to follow the action on Twitter, Instagram and Facebook.