Inside Lacrosse Publisher Terry Foy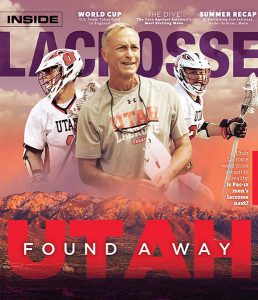 Episode 11 of the Utah Lacrosse Podcast welcomes Inside Lacrosse Publisher Terry Foy to the show. As Publisher, Foy oversees everything about the business from content to ads to subscriptions and more. We talk about the current Utah team, Foy's friendship with the Holman family, lacrosse in the West and more.
— Tim Haslam, Utah Men's Lacrosse SID
Time Stamps
0:15 – Intro
00:25 – BYU Game Recap w/ Coach Homan
02:30 – RMLC Playoffs
02:38 – Terry Foy Introduction
03:33 – Terry Foy
4:10 – Current Team Talk
8:15 – Friendship with the Holman family
13:00 – Timeline from UNC championship to September cover to conversations with Pac-12 Commissioner Larry Scott.
19:25 – Utah being the first Pac-12 school to add Men's lacrosse
22:15 – Hiring the assistant coaches
28:10 – Other tidbits about Utah going D-I
31:35 – Does having a women's team help the school with men's lacrosse?
36:20 – Origin story
41:00 – Day to day at Inside Lacrosse
45:00 – Least favorite part of the job
46:15 – Who do you want to meet in the sport of lacrosse?
48:15 – Favorite interview
50:37 – Rapid Fire Questions including favorite venue, books/podcasts, and more!
Here are a few articles that Foy has written about Utah lacrosse:
Utah Varsity Men's Lacrosse: How It Happened, Why It Matters
It's Official: Utah Going Varsity, Will Start Play Spring 2019
Be sure to follow Terry on Twitter as well as Inside Lacrosse.
Questions/Comments/Feedback is always welcome: tim@uteslacrosse.com or on social media (Twitter, Facebook, Instagram)
Last Podcast: Episode 010 with Brian Holman
Podcast: Play in new window | Download
Subscribe: Apple Podcasts |